Let's meet Roxane, Country Manager at BKS Thailand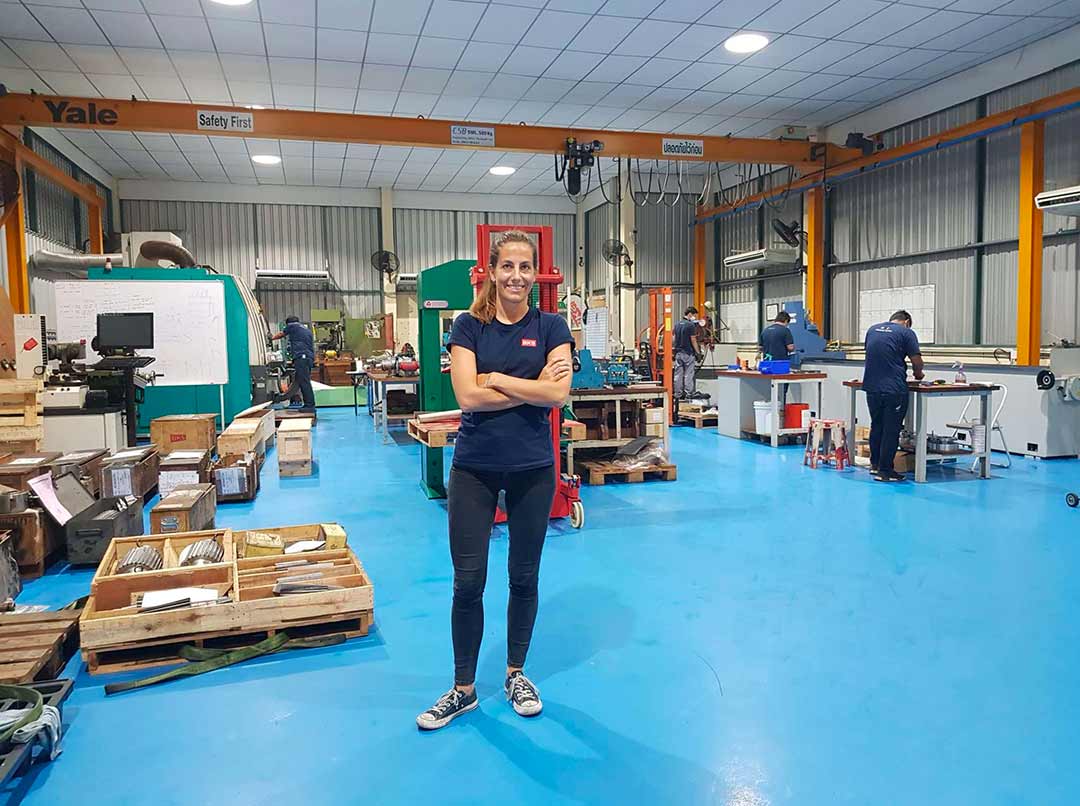 With four production sites all over the world, BKS is your blade producer for various industries like Plastics, Recycling, Steel, Packaging and much more!
We have been established in 1983 and have continuously invested in our people and state of the art technology since then.
We are proud to own the most advanced software and production equipment and are keen to help you out with all your slitting and cutting challenges.
With this series of 10 interviews, we invite you to meet the people behind our blade manufacturing company. All of them play a key role in making our company unique.
Hi Roxane! You are the Country Manager at the BKS factory in Thailand. What is your job over there?
Hello, I have been working here since 2018 and I'm in charge of the BKS Thailand factory. We are mainly a re-sharpening center for pelletizing knives, straight blades and circular knives. But we also offer replacement knives and all kind of spare parts that we produce either in Indonesia or Europe.
You might think regrinding is a rather local service but when you need qualitative work crossing borders is a necessity. We manage to help oversea customers within 2 weeks' time, round trip included! This allows us to work regularly with customers from Vietnam, Pakistan, Saudi Arabia, the Philippines, etc.
Can you tell us more about BKS Thailand?
BKS thailand is our newest factory, and we are located in Chonburi which is very central regarding the industrial zone here. We are also close to the airport and the harbor. So very strategic both locally and internationally.
The automotive and chemical industry are both very strong markets here, so it is very interesting for us to be present here.
We also have many customers that we used to serve already in Europe and who have locations in Asia. This enables them to keep a consistent quality globally.
Of course, Asia is known for its low-cost services but as I mentioned already, quality is important here as well. This is actually how we manage to differentiate ourselves.
Our machinery is similar amongst all sites of BKS. It's very convenient as it allows us to serve our customers in a homogenous way and permit us to share easily new programs, best practices and so on amongst the different sites.

BKS Thailand and BKS Indonesia are close. How are you connected?
As we are located in the same time zone, we have a lot of contact and sharing with BKS Indonesia. For example, when we face technical challenges that require fast response, or some machine breakdown, we first exchange with Indonesia to find solutions, until Europe wakes up.
Tell us about the atmosphere in the Thailand Factory.
We have grown from three to nine employees in two years and are still aiming for growth. There is a very nice atmosphere, a lot of sharing, generosity and cultural exchange here. For example, during the Epiphany, I prepared a Galette des rois that we shared according to the Christian tradition. It's always great to learn about each other's culture! Moreover, the whole team loves Belgian beer, it would be nice to have some more often (laughs)! On Monday, since sales are in the offices, the whole team eats together. It creates a beautiful cohesion and it made me discover that humor has no language. Also, like at BKS Belgium, we have a horizontal hierarchy, we all work together with the same energy. By the way, the employees call me Khun Rox (Miss Rox in Thai). It's funny because Khun is a mark of respect, but my nickname is Rox. I love that!