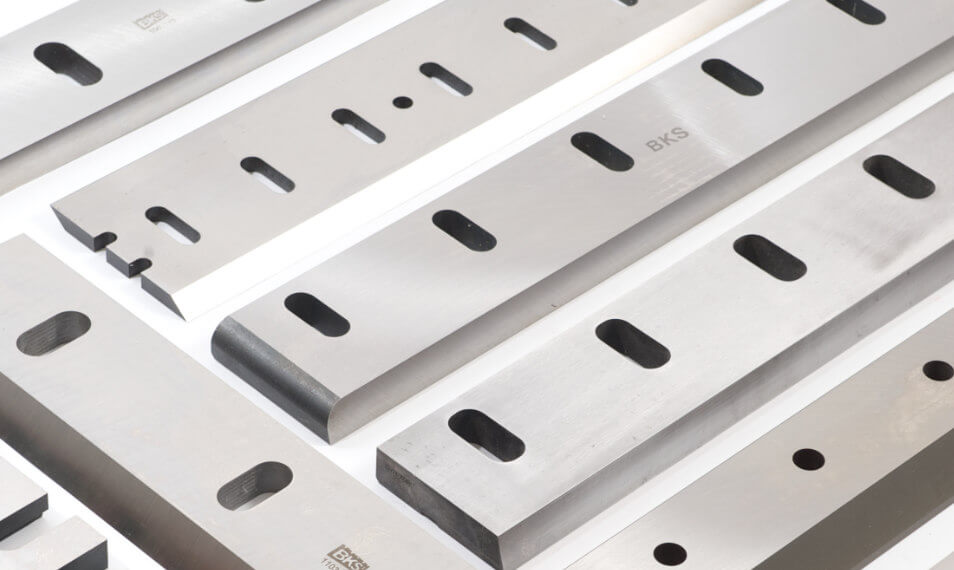 At BKS, we have been designing and manufacturing straight knives with the highest quality since 1983. As a blade manufacturing company with proven abilities, we serve a wide range of industries. Our highly specialised professional maintenance services include grinding, sharpening and welding for any straight blade industrial knife.
Customised Knife Manufacturers
Our bespoke manufacturing service for industrial straight blades concentrates on consistent quality. We have the expertise to design and manufacture straight knives to suit your exact requirements. As a blade producer with decades of experience, we provide complete customer satisfaction. Each industry has its specific needs and we design straight knives accordingly. We can design knives with straight blades in all shapes and dimensions. Our design team can include specialised features such as serrated, toothed or perforated straight knife edges. Our meticulous attention to the finest details ensures our bespoke straight blade knives perform their specific tasks with the utmost precision. Some of the professional industries we serve include :
Food processing
Packaging
Textile
Rubber
Plastics
Printing
Recycling
Advanced Straight Blades Manufacturing Techniques
We manufacture each bespoke industrial knife using materials of the highest quality. Our extensive experience in all aspects of metallurgy enables us to choose metals that are particularly suited to performing under your production constraints. We are qualified to advise on which materials are the most appropriate for the blade's intended application. Each specific metal we recommend is chosen for its excellent performance, durability and continued reliability. We can machine and grind almost all materials available on the market. The blades are manufactured through the most superior technological techniques available. Our precision engineering processes include using CNC machines equipped with CAD/CAM software, advanced heat treatments and accurate surface grinding to achieve the finest permitted tolerance.
Maintenance and Repair of Straight Knives
As a high-quality blade manufacturing company with a reputation for reliability and integrity, we also offer a superb maintenance service. Many industrial processes such as cutting cardboard, rubber or even recycling, quickly cause even the sharpest knife to become blunt. We can ensure your industrial straight blade continues to operate at its maximum efficiency. Our grinding and sharpening techniques include machining the surface of the straight knife to regain its former accuracy. For durability and the highest accuracy and performance, we can carry out rewelding and resharpening as often as considered suitable. Whenever your industry requires the manufacture of a bespoke straight blade or the expert maintenance of an existing straight knife, contact BKS. Our service is guaranteed to produce excellent, cost-effective results quickly and efficiently.
Tell us more about your project !