Let's meet Albert, Country Manager at BKS Indonesia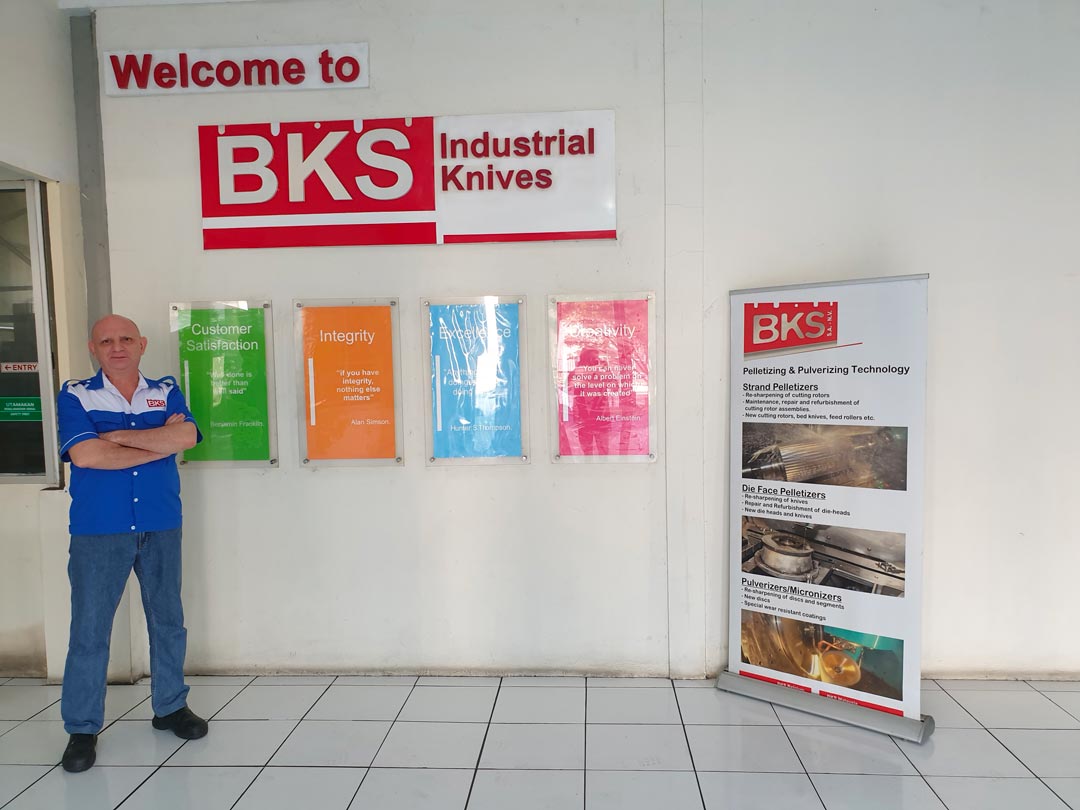 With four production sites all over the world, BKS is your blade producer for various industries like Plastics, Recycling, Steel, Packaging and much more!
We have been established in 1983 and have continuously invested in our people and state of the art technology since then.
We are proud to own the most advanced software and production equipment and are keen to help you out with all your slitting and cutting challenges.
With this series of 10 interviews, we invite you to meet the people behind our blade manufacturing company. All of them play a key role in making our company unique.
Hello Albert! You are the Country Manager at BKS Indonesia. How did you get there?
I have been living in Indonesia for 27 years. Nicolas Jacquemin was looking for someone who knew the country to take over the BKS Indonesia factory. We got in touch via LinkedIn through mutual acquaintance and the contact went well. I have been working here since 2015. My job is to manage short-, medium- and long-term problems, whether technical, administrative or commercial. I am also in charge of developing work processes as well as the commitment and continuous training of employees.
The advantage is that as I have been living here for many years, I have taken the time to learn to speak and write Indonesian. This allows me to have a better approach and a better customer relationship. Often when I meet a client and he sees a European, he says "Hello" in English, but I switch to Indonesian and automatically, I see a big smile on the customer's face. It also makes it easier to build trust, as it is easier for them to speak in their mother tongue and therefore to state their problems or ask certain things more easily. It opens doors, it's great!
Great! Can you tell us more about BKS Indonesia?
It all started in Malaysia before I joined BKS. We had a factory there dedicated to sharpening. But while prospecting in Indonesia, we realized that there was a huge potential. Much greater than in Malaysia! The Indonesian market is very large, there are a lot of opportunities to be seized. The presence of Japanese, Korean, Chinese and European companies only increases the demands for more and more specific and pointed services where a specialized company like BKS naturally finds its place.
So we started by bringing the knives from Indonesia to our Malaysian factory, but administratively it was very complicated. It took between 3 and 4 months to make a round trip, which is unthinkable in the world of production. It was therefore decided to open a workshop in Indonesia which will be our first knife production workshop. So we started by producing knives that we were selling on the Indonesian market but also on the Asian and Middle East markets. Initially, the idea was to cover the needs of the Asian market.
And how is life in BKS Indonesia?
In 2014, when my colleague Nicolas created and opened BKS Indonesia, there were only 2 employees. We are now 22 people! We form a tight-knit and completely autonomous team for the production of the various products. We listen to customers' requests and do not hesitate to adapt certain products to meet specific requirements. We work on conventional and CNC machines (4 to 5 axes). Those are the latest generations. They help us to respect the repeatability and precision of the work carried out.
In terms of the atmosphere in the factory, we can say that it's quite calm. It's cultural here, Indonesians are not used to raise their voices. When Belgian colleagues visit us, they are always surprised by the calm that reigns here! Often, technical discussions are in between asking about the last newborn, about the new bike we bought… And during Ramadan, we have a tradition: the whole team meets to wait for the sunset, and we all have dinner together to celebrate it. It's always a beautiful moment!