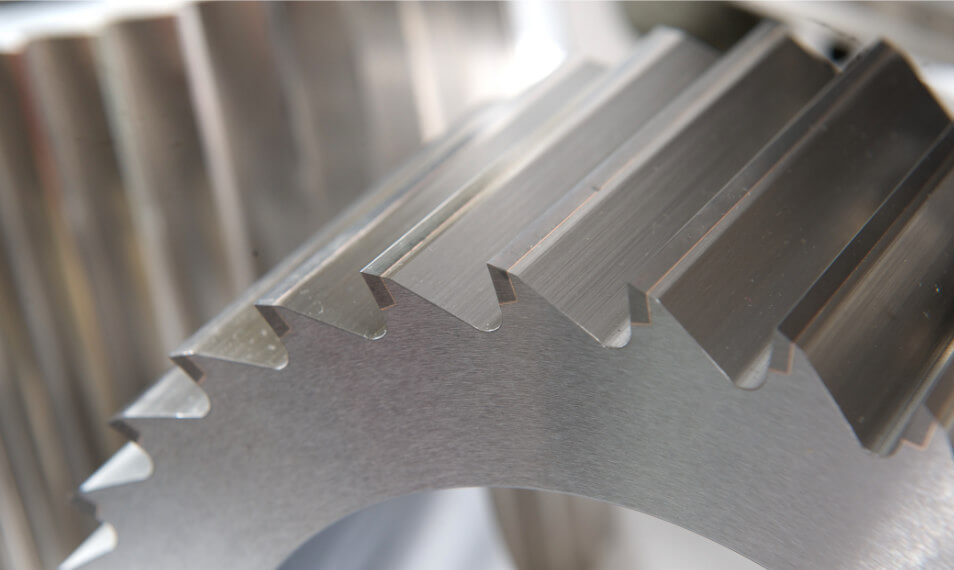 CUTTING ROTOR
Regrinding on state of the art 5 axis machines. Complete rotor grinding according to OEM specs. Unique Quality Control with each and every rotor.

Bearing maintenance + shaft repair

Supply of new cutting rotors/ Bed knives in any material (Tool Steel, Stainless, Powder Metal, Stellite and Carbide)

Supply of spare parts for your Pelletizing machine (feedrollers/wipers/bed knife holders/…)
ROTORS RE-SHARPENING SERVICE
At BKS you are assured of a professional grinding service for your strand pelletizing equipment. We re-sharpen your cutting rotors and rotor cutting machines according to OEM prescription (MAAG, RIETER, AUTOMATIK, SCHEER, IPS, COPERION, PELL-TEC, ACCRAPAK, DREHER, MECCANOPLASTICA, PREVIERO, CUMBERLAND, CONAIR, BPM, LABTECH etc.)
We work with optical identification and control to track your expensive cutting tools.
Execution of the rotor grinding process assures correct full profile grinding for the best lifetime. As we keep track of your cutting rotors in our database, it enables us to advise optimization of rotor cutting material, profile and finish.
We work with Swiss made Schneeberger 5-axis CNC machines to ensure consistent, repetitive quality with minimal diameter reduction.
Optional, BKS provides inspection, control and bearing maintenance for all your cutting rotor assemblies. Every rotor sharpened by us is delivered with a certificate.
We arrange transport service; your rotors are picked up and returned.
ROTOR REPAIR & REVISION
Your rotors are identified and inspected upon arrival. In the event of any damage, BKS can offer repair or overhaul of cutting rotors. Bearing seats can be repaired by laser cladding. TC teeth can be repair brazed, clamped teeth can be replaced and stellite or tool steel rotor with chips can be repaired by laser welding.
WEAR PARTS
BKS offers a complete range of new rotor assemblies, bed knives and spare parts
for replacement or extension. Materials range from 1.2379 (WS2) and 1.4112 (WS1) to high-end solutions such as powder metallurgical materials (PM), Stellite (ST), tungsten carbide (TC) in brazed and clamped versions.
Besides rotor/bed knife combinations, BKS also supplies new rotor shafts, bearing housings, feed rollers and other spare parts for your strand pelletizers. Depending on the customer's specific circumstances and demands, BKS can always find the most suitable combination of materials to offer.
BKS always have a large stock of spare parts available, inquire about this!
IMPROVEMENT
Besides above-mentioned services, BKS attaches great importance in optimizing performance and costs involved operating strand pelletizing equipment. By sharing
experiences and keeping track of figures we can improve together.