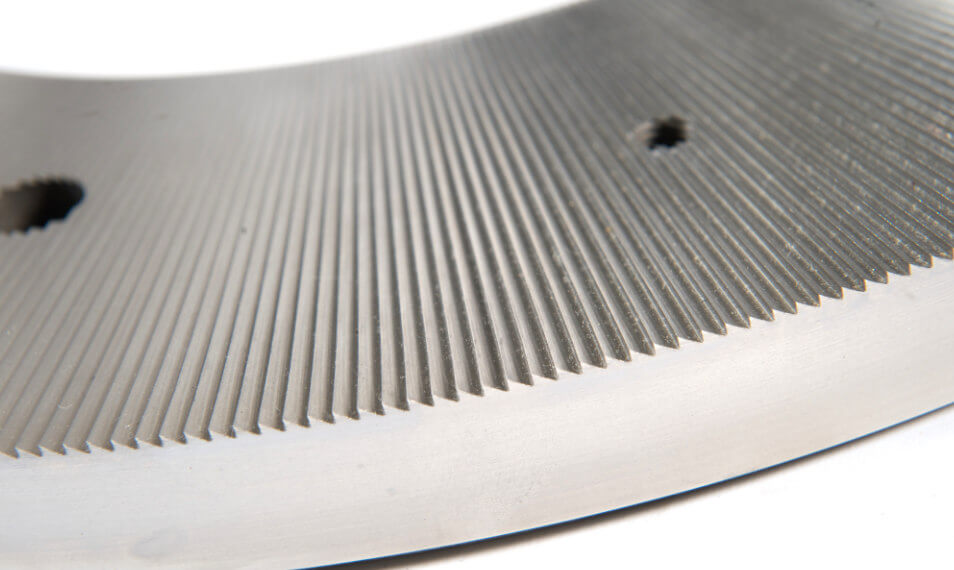 PULVERIZING MACHINE MAINTENANCE
Regrinding on state of the art 4 axis machines. Complete profile grinding according to OEM specs for your pulverizing equipment and blades. Unique Quality Control with each and every disc/Segment.

Supply of new discs/Segments in any material (Tool Steel, Powder Metal, with or without coating)
GRINDING SERVICE FOR YOUR PULVERIZER BLADE
At BKS you are assured of a professional grinding service for your pulverizing equipment. We re-sharpen your cutting rotors according to OEM prescription (PALLMANN, REDUCTION, ORENDA, (NEUE)HERBOLD, ZERMA, etc.).
We work with optical identification and control to track your expensive cutting tools.
Execution of the grinding process assures correct full profile grinding for the best lifetime. As we keep track of your pulverizer blades in our database, it enables us to advise optimization of pulverizer blade material, profile and finish.
We work with Swiss made Schneeberger 4-axis CNC machines to ensure consistent, repetitive quality with minimal material reduction.
Every pulverizer blade sharpened by us is delivered with a certificate.
We arrange transport service; your rotors are picked up and returned.
OPTIMIZATION
BKS attaches great importance to optimizing the service life of the pulverizer discs and segments. That is why, by working closely with our customers, we offer specific materials and coatings to minimize costs.
WEAR PARTS
We offer new pulverizer discs and segments in OEM quality in a choice of materials ranging from 1.2379 (WS2) to high-end wear and / or corrosion-resistant solutions. Depending on the client's specific circumstances and wishes, BKS can always offer the most suitable material.
BKS has standard pulverizer discs and segments available, inquire about this!
Tell us more about your project !