BKS is specialized in production and maintenance of industrial paper cutters. At BKS, we design and produce industrial paper cutters that suit your specifications and needs. The services we provide are personalized according to your requirements. Experienced in the production and maintenance of knives and blades of all shapes and varieties, we can produce blades which fit your purpose. BKS works with professional businesses and guarantees its customers high quality services.
Production
Our teams are composed of trained and experienced engineers in industrial knives and blades production. At BKS, our goal is to meet customer needs. Therefore, our company follows customer's instructions during the production process. We design and manufacture customized paper cutting tools. BKS offers to its clients a make-to-order production. Our experts in blade and knife manufacturing always follow your expectations.
BKS provides cutting tools for the paper industry in any shape and size.. We produce paper cutter blades and also paper shredders. These shredders can be used for the shredding of highly confidential documents, as the knife we manufacture for your paper shredder guarantees a very small crushing. Both of these paper cutting tools come with different blade specifications (material, hardness, surface finishing,…) which are produced in order to meet customer's demands.
Maintenance
At BKS, one of our main goals is to foster good relationships with our customers. To do so, we provide maintenance services for all your blades and knives, in addition to manufacturing. Our maintenance service is made to preserve the quality and the sharpness of your blades. The maintenance of your machine is also included in this service until a certain extent. . The replacement of your paper cutter blades is feasible, in case of a loss of function.
Shredder blades can also be replaced by BKS. Our maintenance team takes over the repair as well as the replacement of the shredder blades of your industrial shredder. Our team of experts in the maintenance of shredder knives is at your disposal.If needed, we can also rely on the latest welding technology to guarantee the quality of our services.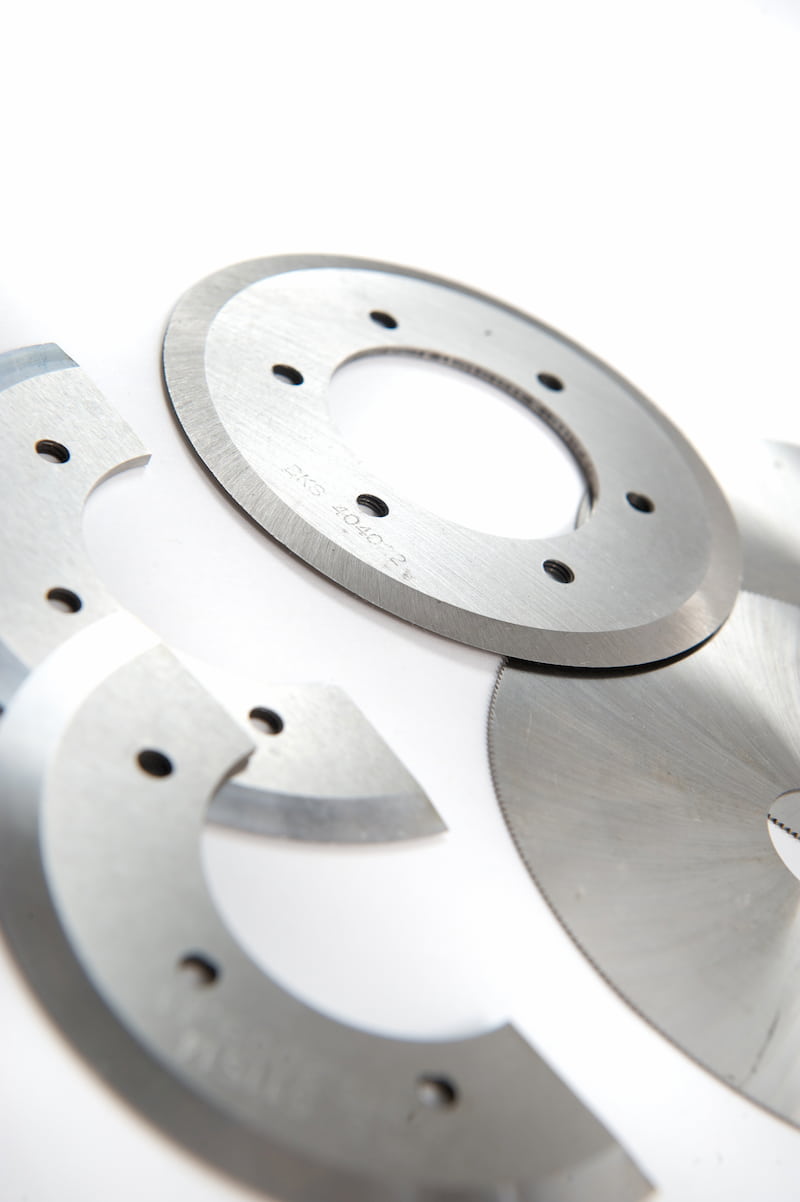 Why should you choose BKS for your industrial blades and knives ?
We offer sharpening and resharpening of your industrial blades and knives, using top-notch technologies.
We offer the customization of your blades to fit the diversity of our client requirements.
Thanks to our experience in all kinds of industries, we manufacture blades that meet the needs of our clients.
We provide quality blades by using high-end and reliable materials.
At BKS, our team uses high quality grinding and welding machines controlled by experienced and professional trained engineers. The performances of your industrial paper cutter and industrial paper trimmer are guaranteed. If you need blades and knives for your company, we provide you the best products based on your requirements, as we have been doing since 1983.
Talk with us !