Arnaud and Baptiste on their way to BKS Asia!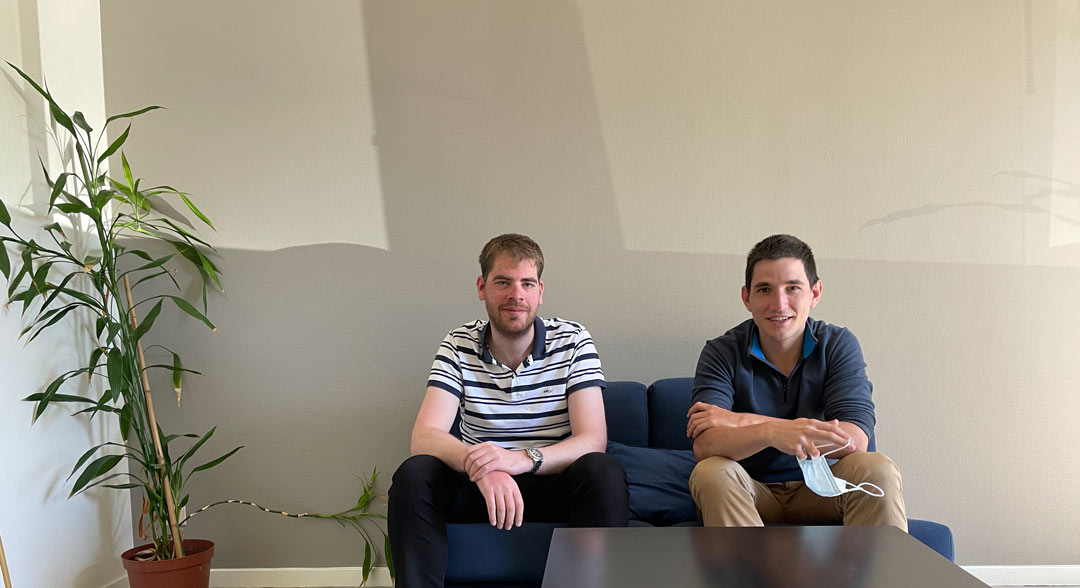 This year, two of our employees will be leaving Belgium for the BKS factories in Asia. Arnaud, Country Manager has left for Chonbury in Thailand and Baptiste, Sales Manager and Key Account Manager will soon be leaving for Cikarang in Indonesia.
We conducted a short interview to find out more about this great adventure made in BKS.
Hello! What an exciting adventure! How did you get here?
Arnaud: I graduated from a business school in France (ESC Clermont-Ferrand). After various internships, I made my career in consumer goods in Belgium, first at Danone and then at Nestle, still within the waters division for spring and mineral waters, both in marketing and commercial functions. This opportunity at BKS is a great challenge to continue learning new things in a very dynamic industry.
Baptiste: I have already been abroad with EXPLORT program for AWEX services for a training course to become a Business Developer. I had to organize an economic mission for a company that produced machines and wanted to market them in Vietnam. I discovered a whole world there and I really liked the culture I found there. When I came back, I worked in the industrial sector in Luxembourg in a company that sold lifting equipment. Finally, I joined BKS a year ago where I am in charge of the pelletizing sector in France and Wallonia.
Interesting! Do you have any professional and personal goals you would like to achieve there?
Arnaud: We know the region is really promising for BKS, so my main goal will be to pursue the great growth that BKS Thailand has experienced over the last few years. It's (always) a challenge to take over a structure that has such good results, especially under the influence of Roxane but I am lucky to join a successful team in Thailand.
On a personal level, it will be my first experience in Asia. Adapting to the new culture, learning thai and the way of working in Thailand will be the focus. Maybe my biggest personal challenge will be to lower the level of jokes to my colleagues, but I'm not sure I can do it (laughs)!
Baptiste: Indonesia is a huge country with an equally huge potential, whether it's for polymer granulation or for the industrial sector in the broadest sense. I would therefore like to consolidate the Indonesian sales team, which currently consists of two sales. As for my role as Key Account Manager, I will take care of several customers, regardless of the sector in which they operate.
For my personal goals, I have already been learning the Indonesian language for a few months. I would like to put into practice what I have already learned. I will also have to adapt to the climate, because as belgian, I have hardly had any sun for months (laughs).
Do you have any apprehensions about your expatriation?
Arnaud: I hope to progress as quickly as possible in Thai so that the integration goes well. And I will need it not only for work life. And besides, coming from the Jura, in France, it might take me a few days to get used to the climate (laughs).
Baptiste: For me, it's really about the cultural gap. You have to "learn without being told".
And what are you currently doing to anticipate this departure?
Arnaud: My departure is imminent now. I'm continuing what I've been doing since I started at BKS: spending time in the workshop to get comfortable with the products, our machines, our quality processes. Spending time with the sales team who continue to train me on the products and applications.
Baptiste: I'm in regular contact with Albert Gava. He explains to me the daily life at BKS Indonesia and already gives me some "tips and tricks". I also learn about the different products we produce there and keep an eye on Indonesian market. As a bonus, I have the opportunity to strengthen my relationship with Arnaud as we are in Belgium together at the same time.
So you will work together on some projects?
Arnaud: There will be an exchange of best practices because I will also be in charge of the commercial part of BKS Thailand.
Baptiste: Yes, and Indonesia produces part of what Thailand needs, so we will obviously be in contact. We will also have similar cultures, so it's interesting to be able to exchange.
Arnaud: And the more informal exchanges you have, the more positive opportunities you can expect!
What a great team! Last question aside from work: What are you most looking forward to about this new adventure?
Baptiste: Going into the unknown! Personally, I'm already looking forward to the preparation for expatriate life. I feel like I'm making my own parachute before I jump into the void!
Arnaud: Exploring a new part of the world in my spare time, without hesitation!